How to find suggestions for the topic of your next post?
Post HF21 times.. bid bots fighting for the chance to upvote you for free... but you don't know what to write about? Let's say you are a philosopher and even though you have a head full of thoughts daily, today your mind is a blank piece of paper?
I want to show you a very good way to discover article topics. It is very well known in content marketing and search engine optimization. It seems trivial, but people have no idea about it.
What I propose has also added value:
It meets the expectations of people looking for specific information (Direct Answers). So the topic answers a question.
It has better positions in search engines.
It responds to the reader's needs at the moment - trends.
1. Use the largest information database in the world
We will use Google. But we won't use hints in the search box or trends.google.com. We will use a tool that works on this data but is more effective, faster and visualizes ideas.
2. Specify the category
Let's start with defining the limits of our invention. If you are the mentioned philosopher, you can be tempted by the phrase "philosophy". Quite an extensive topic, but it's worth a try.
3. Answer The Public
Now you can finally say hello to the mentioned tool, go to the page: https://answerthepublic.com/

A mysterious-looking and impatient man on the home page will prompt you to enter your phrase to analyze.
Language - choose your language, e.g. EN
Region - don't change anything
Enter Keywords - enter the "philosophy"
Get Questions - click and wait for the program to find ideas.
Analyze the results
Research may take a while - up to a minute. After this time, if the topic is wide enough, we will see a few "idea maps".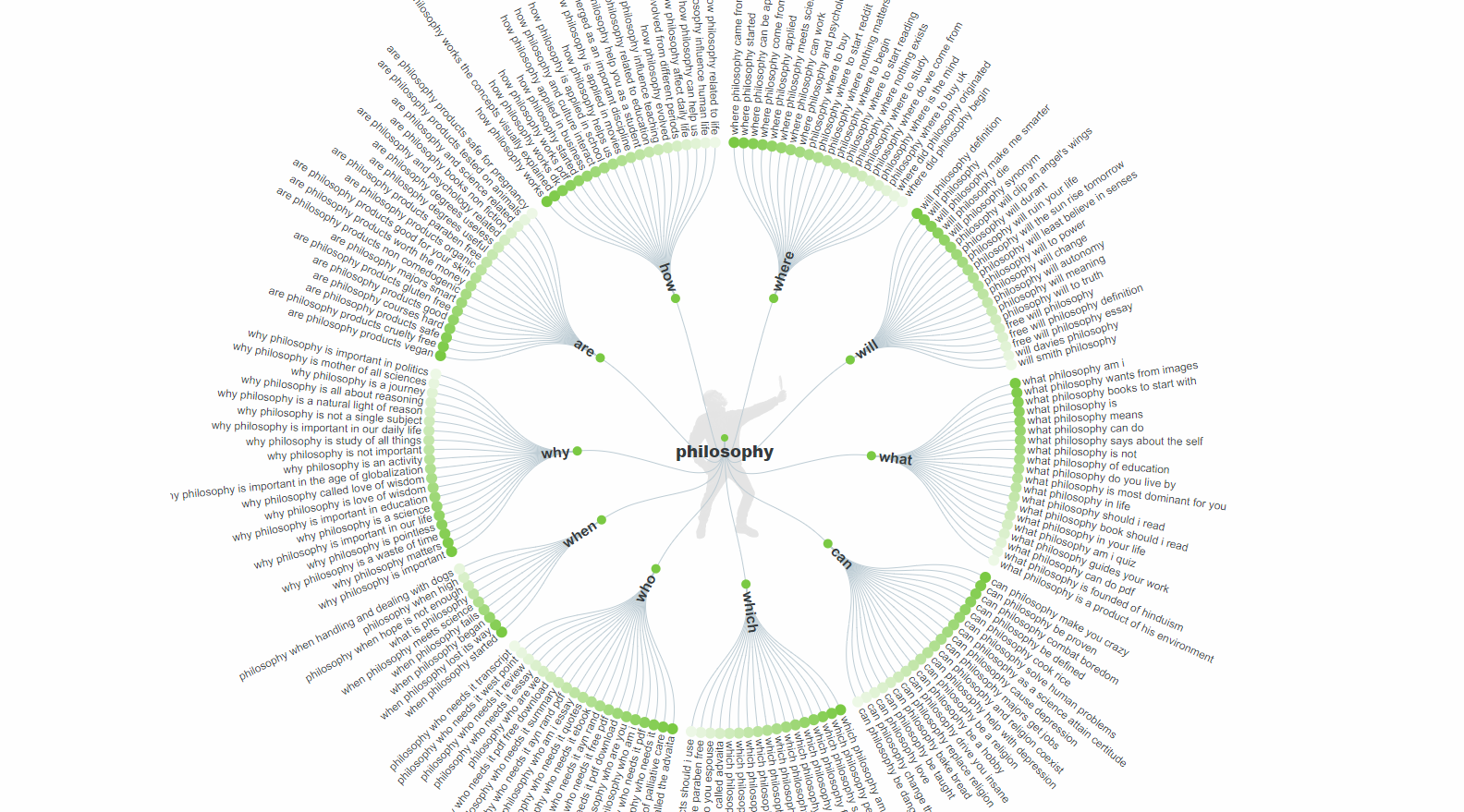 Map of questions in the field of "philosophy"
Let's see some of the ideas:
Why philosophy is a waste of time? :D
What philosophy book should I read?
Where philosophy came from?
These are only three questions I have picked. And the program shows us not only questions but also maps of ...
Phrases with prepositions:
philosophy to be happy
philosophy is a branch of science
philosophy without history is blind
Comparisons:
philosophy vs theology
philosophy is like plumbing (?)
philosophy is like a tree (?)
And much, much more.
You can check the sample report I created today: https://answerthepublic.com/reports/429b85a9-c33e-49b0-b0a2-3474b514341c
What's more, images can be saved or downloaded as a text list of expressions.
My previous articles: